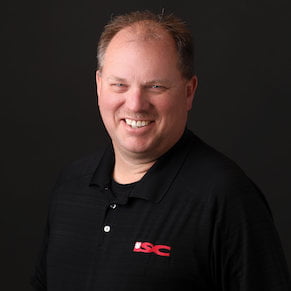 Happy Anniversary to John Dockter! John is our current Director of Hardware Support and has been with the company for TWENTY EIGHT years and we are so thankful for his dedicated tenure with us. Here are a few words shared from team members and John himself.
"Twenty eight years ago today, I interviewed a young kid fresh out of school. Little did I know, we would still be working together twenty eight years later. It's been a great journey, John and I have respected and enjoyed working with you all those years. Let's keep the fun going as ISC would not be the same without you."  Elair Brothen, President and CEO
"Johns experience has been helpful for me to learn from.  He has a wealth of knowledge regarding our full history of products.  Together we service a wide range of machines from Montana to Wisconsin.  John has been great to work with.  I look forward to many more years!" -Jamie Otte, Hardware Solution Analyst
"I started two years after the company was started by Elair Brothen and Wayne Altenbernd. At that time, we were mainly a Canon microfilm dealer with Canon reader printers and cameras in mostly banks and businesses. Our territory, at that time, was the state of North Dakota and 1/3 of Minnesota. The company has adjusted to the changing times and we still deal with microfilm, but now mainly on a conversion basis. We have migrated to more of a content management company with Canon scanners and Open Text software. Since then, we have also added KIP Wide Format and Canon IPF Color Printers. This job has been challenging and rewarding for the past twenty eight years and I see that continuing for several more years!"  John Dockter, Director of Hardware Support "  John Dockter, Director of Hardware Support
Thank you for all you do, John. Happy Anniversary and cheers to MANY more!