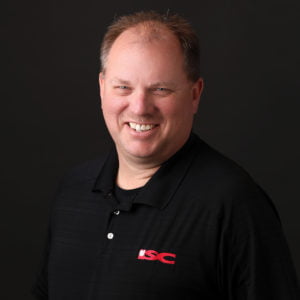 During this challenging time for our community and nation, we want to pause for a moment to spread some joy and celebrate John Dockter's anniversary at Information Systems Corporation. John is our Director of Hardware Support and has been a team member for THIRTY YEARS!
John oversees all hardware sales and support at ISC. He is unbelievably appreciated by team members and customers alike for his work ethic, industry passion and willingness to contribute and lend a helping hand. He has seen the industry and our business change substantially over his tenure and continuously is adapting to change and learning about the latest hardware advancements in order to better serve his customers. He has been learning about KIP's new product line recently and executed an exciting hardware sale and installation at a local engineering firm. The KIP 970 is a powerhouse wide format printer with advanced color printing, high demand output, precise imaging, and expressive color fidelity.
One fun fact about John is that he coaches fishing at a local high school and enjoys many outdoor recreational activities throughout the year. When asking one of our founders and CEO what message he wanted to share with John on his Anniversary, he said, "Thank you for the many years of dedication. I appreciate you and know that ISC would not be the same without your support! And go fishing when all of this is over!" Cheers to you, John!!! We hope that you are able to enjoy many fishing trips this summer. Thank you for all you do to support the ISC team.