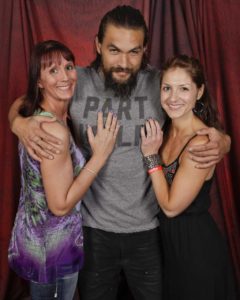 At the end of 2018, Stacy Ludwig and Amy Lindemann both celebrated their Anniversaries of joining the team at Information Systems Corporation. Amy has been an ISC team member for 20 years and Stacy has been with the team for 15 years – both such monumental anniversaries and ISC is SO fortunate to have had both their support for decades
Amy is our Director of Accounting and Human Resources and manages so many moving pieces internally to ensure the company run smoothly on a day-to-day basis. Stacy Ludwig is our Conversion Center Supervisor who ensures all client content is managed with care and projects completed with accuracy and efficiency.
Amy and Stacy partner on many office initiatives and even have had the chance to meet celebrities such as Jason Momoa together while on vacation. CHEERS to this dynamic duo!!! Happy Anniversary and Thank You for your many years of dedication. We are very lucky to have you both as a part of the ISC family.